1-800-dryclean.com refer a friend and you both get $20 off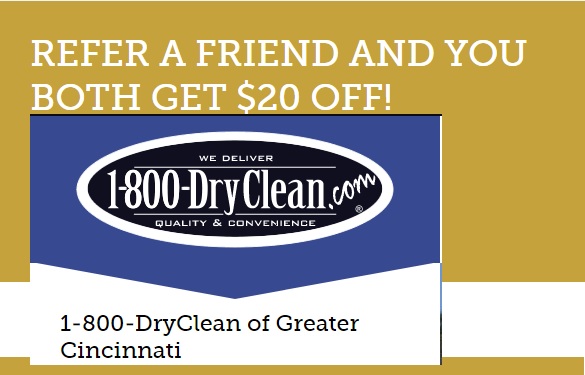 Referral Offer
You probably know a friend or co-worker who would enjoy the quality and convenience of 1-800-DryClean. Refer a person who becomes our customer and we'll not only credit your account with our referral bonus, but we'll give that person a little something too! You can also refer long-distance friends because 1-800-DryClean provides services for homes and offices nationwide. Just fill out this form and we'll take care of the rest.
http://www.1-800-dryclean.com/Refer-a-Friend/greater-cincinnati/20DollarBothRO
Disclaimer : Check validity of the offer with the business before providing the referral. Please note that this offer is not endorsed by ReferWise.com and contact the business directly to submit your referral and claim your referral bonus. This offer is documented here just to help ReferWise members finding new referral offers and help the business new customer. If you are the business behind this offer then contact us for officially launching this offer on ReferWise.