Couch Oil Company-$200 Propane New Customer Referral Program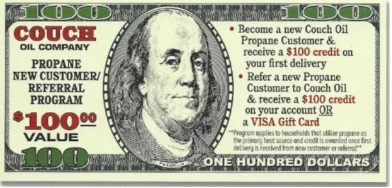 About Couch Oil Company
Couch Oil Company is the local residential and commercial fuel supplier in Durham. They offer diesel and propane products. You can count on for high-quality fuel and their prompt service. You will never run out with Couch Oil's automatic fill plan for propane and heating oil, or simply order fuel on a call-in basis.
Propane fuel is valued for being a diverse and versatile, from cooking and heating your home to powering everyday appliances. Couch Oil Company team installs propane tanks in new and existing homes, working closely with the building companies and heating and air conditioning companies to ensure the installation of your propane tank is done correctly.
You can contact their Durham Office for your Free Consultation and Estimate.  You can visit their website for the other useful information like Propane Services, Related Propane (LP Gas) Fees, Benefits and Advantages of Using Propane Gas, Household Uses for Propane, Propane Gas Tank Sizes and dimensions.
About Couch Oil Company Referral Program
You can earn $100 with the Couch Oil Company Propane New Customer Referral program. Simply refer a friend, neighbor, co-worker, or family member to Couch Oil company and receive a $100 credit on your account OR a $100 VISA Gift Card. The person you refers gets a $100 credit on their 1st propane delivery.
The referral program applies to households that utilize propane as the primary heat source and credit is awarded once first delivery is received  from new customers or referral.
How to refer
To earn your reward, you simply need to fill out the form (available on their referral program page) to recommend someone who would benefit from Couch Oil's propane services. They will contact the new customer you referred letting them know about your referral. When that person signs up and receives an initial minimum propane delivery, they will apply a $100 credit to your account or send you a $100 VISA Gift Card.
Click here to go to the referral program page
Disclaimer : Check validity of the offer with the business before providing the referral. Please note that this offer is not endorsed by ReferWise.com and contact the business directly to submit your referral and claim your referral bonus. This offer is documented here just to help ReferWise members finding new referral offers and help the business new customer. If you are the business behind this offer then contact us for officially launching this offer on ReferWise.