Refer a friend to Pridestaff and get $ 100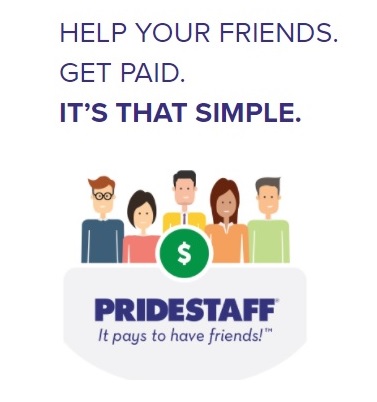 About Pridestaff
Pridestaff helps candidates to improve their opportunities and find great jobs, temporary or full time, within their network of clients. Working with PrideStaff, you will have access to a broad range of positions where your skills can be put to the best possible use. They help ensure that you don't just search, but succeed. PrideStaff provides ample opportunities for you to put your skills to work.
They work closely with each employer to identify their unique staffing needs and the real skills each candidate must possess. They then develop a customized recruiting plan that blends individual client requirements with PrideStaff expertise.
About Pridestaff Referral Program
If you would like to help your friends to get a right job, you can refer them to Pridestaff. You would get $100 for each friend who works a minimum of 160 hours.
How to refer
You can refer your friends using the form available on their referral offer page. You need to provide your and your friend's contact details.
Location: Anywhere is US
Click here to go to the referral program page
Disclaimer : Check validity of the offer with the business before providing the referral. Please note that this offer is not endorsed by ReferWise.com and contact the business directly to submit your referral and claim your referral bonus. This offer is documented here just to help ReferWise members finding new referral offers and help the business new customer. If you are the business behind this offer then contact us for officially launching this offer on ReferWise.