Refer a friend to Commonbond and Earn $200 for every referral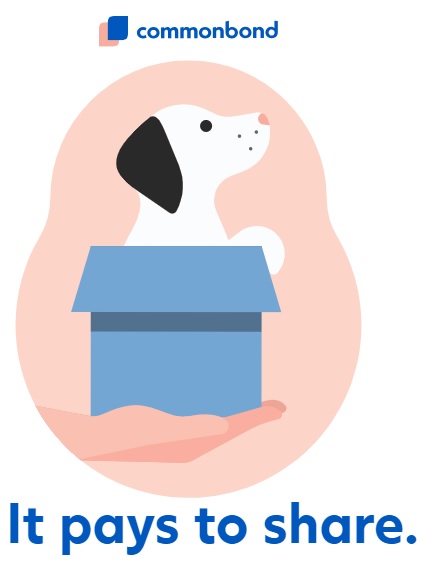 About Commonbond Referral Program
Share the Commonbond loans and refinancing information to a friend, family member, or colleague and earn $200 every time they take out a student loan or refinances using your referral link.
How to refer
You don't need to be a member of Commonbond to spread the wealth by referring. You just have to enter your email address on the referral program page and click on 'Get link now' button.  Then they will send you a referral link which you can share with anyone interested in saving money on their student loans. You would get $200 on PayPal every time someone uses your link to take out a new loan.
About Commonbond
Commonbond is your friend in finance who offers simpler, smarter student loans for their brighter future. Their key features are lower rates, simpler options, and a world class experience, all built to support you throughout your student loan journey.
Whether you are starting college or graduating with student debt, Commonbond is the only company that has loans covered for your entire student loan journey. They provide different types of loans like Undergraduate student loan, Graduate student loan, MBA student loan and Student loan refinancing. CommonBond for Business makes it easy for you to provide forward-thinking student loan benefits that transform your team's financial wellness and set your company apart in the hiring pool. They get the support they need, and you attract and retain better talent.
Their U.S.-based care team is available by phone and live chat Monday–Friday, 9am–6pm EST, and you can email them anytime.
Location: New York
Click here to go to the referral program page
Disclaimer : Check validity of the offer with the business before providing the referral. Please note that this offer is not endorsed by ReferWise.com and contact the business directly to submit your referral and claim your referral bonus. This offer is documented here just to help ReferWise members finding new referral offers and help the business new customer. If you are the business behind this offer then contact us for officially launching this offer on ReferWise.