Refer friends to Dry Cleaner Valet and get a coupon for $20.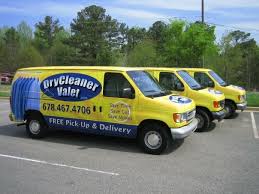 About Dry Cleaner Valet Referral Program
Introduce Dry Cleaner Valet to friends or family and you will get a coupon for $20. Your friends would also get $20 off their first ever Dry cleaner Valet order. This offer is valid for first time customer only.
How to refer
To refer your friends to Dry Cleaner Valet, you have to be their existing customer. To start referring, first log in to your Dry Cleaner Valet Account. Then click on Refer a Friend and click on Invite Friends. You can send your friends your referral code. Once your friend uses Dry Cleaner Valet's service for their first time you will receive a coupon for $20 for each new customer you refer.
About Dry Cleaner Valet
Dry Cleaner Valet under the ownership of Fabricare Center is a family owned and operated company that has been serving North Atlanta for 15 years. It is a affordable and convenient Dry Cleaning Delivery Service right to your home or office. They have a free pick-up and delivery service.
Their process is as easy, accessible, and transparent as possible through their website, online portal, app, and electronic barcode tracking.
You can leave your garments in one of their valet garment bags in your designated pickup location . Then check your order status through your online account. When your items are delivered to your designated delivery location you will receive an email and/or SMS notification.
They use GreenEarth cleaning solution to treat the garments. Silicone based, this environmentally non-toxic, non-hazardous solution is extremely gentle and a great alternative to petro chemicals. This solution doesn't irritate skin or leave any odors.
Location
Alpharetta, Cumming, Milton in North Atlanta.
Click here to go to the referral program page
Disclaimer : Check validity of the offer with the business before providing the referral. Please note that this offer is not endorsed by ReferWise.com and contact the business directly to submit your referral and claim your referral bonus. This offer is documented here just to help ReferWise members finding new referral offers and help the business new customer. If you are the business behind this offer then contact us for officially launching this offer on ReferWise.