Refer to Valencia Travel Cusco and receive $100 off on next trip.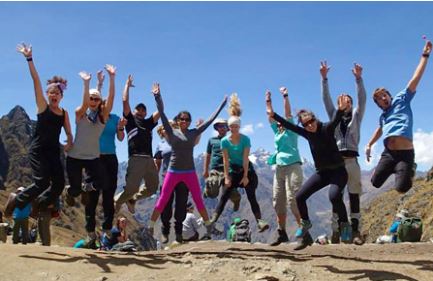 About Valencia Travel Cusco Referral Program
As a past customer, when you refer a friend to Valencia Travel Cusco, you both benefit from it. Your friend will receive $100 (USD) off their first tour/trek booking included in a package and when you book your next new trip, you will receive $100 (USD) off.
How to refer
To be eligible for referral program, you must have previously traveled with Valencia Travels and your referral friend must be a new client.
All you have to do is to share your amazing and unique travel experiences with your friends and family.
You need to give your friend your Account Number and name. When they call, make sure they give both your name and Valencia Travel Cusco account number to their travel specialist or enter it online. Your friend will receive a $100 (USD) credit off their booking immediately; only on tours/treks. When you book a new reservation, the $100 (USD) will be waiting, when you book your next tour/trek.
About Valencia Travel Cusco
Valencia Travel Cusco provides unparalleled and quality tourism services. They are an award-winning company, recognized throughout the tourism industry for their service and dedication to their clients. The services offered by Valencia Travel Cusco meet or exceed accepted international quality standards.
They offer travel packages to the most recognized parts of Peru. They attend to every detail, while making sure that all of their clients have a relaxing and exciting vacation.
Valencia Travel Cusco offers the best in tour, Inca Trail Trek and Salkantay Trek to Machu Picchu packages along with special deals. It specializes from relaxing tours for the baby boomers to challenging treks for the adventurous. They customize Machu Picchu Tour packages according to the price and likes of potential travellers.
They specialize in different types of tours like Private and Group Tours, Small Group Tours (consisting of 10-20 people), Escorted Bus Tours, Independent City Stays, Multi-Destination Rail Packages, Customized Vacations (Vacation Builder), Custom Groups and Individuals Packages, Group Air Packages.
Location
Click here to go to the referral program page
Disclaimer : Check validity of the offer with the business before providing the referral. Please note that this offer is not endorsed by ReferWise.com and contact the business directly to submit your referral and claim your referral bonus. This offer is documented here just to help ReferWise members finding new referral offers and help the business new customer. If you are the business behind this offer then contact us for officially launching this offer on ReferWise.