Share GRID Alternatives to friends and Earn $200 for each referral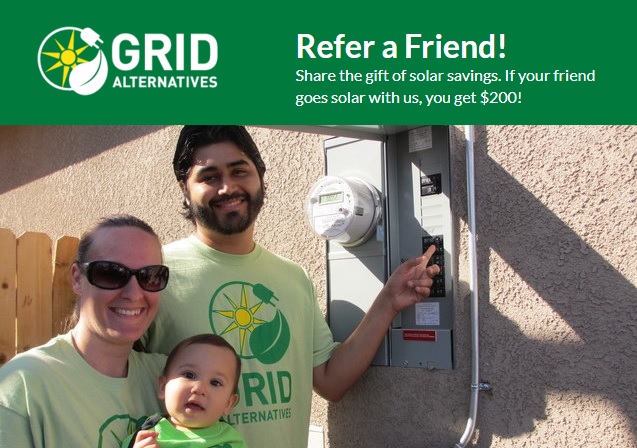 About GRID Alternatives
GRID Alternatives is 501(c)(3) certified non-profit organization based in Oakland, California, with nine affiliate offices serving all of California, Colorado, Washington D.C., Virginia, Maryland and Delaware. They also have a national Tribal Program, and an International Program serving Nicaragua, Nepal and Mexico.
They are national leader in helping low-income communities and communities of color nationwide get clean, affordable solar power and solar jobs, and their energy access work is lighting up off-grid communities across the globe. GRID is the nation's largest nonprofit solar installer. They develop and implement solar projects that serve low-income households and communities. Through their unique, people-first model, they are putting money back into families' pockets, reducing the energy cost burden for housing providers, and jumpstarting solar careers. They partner with affordable housing organizations, job training groups, government agencies, municipalities, utilities, tribes and local communities to make solar a win for everyone.
About GRID Alternatives Referral Program
Share the gift of solar savings, and help provide clean, safe energy to your community.  Refer friends and family and earn $200 for each person that goes solar with GRID.
How to refer
To refer you friends or family members to GRID, you just need to fill the form available on the referral program page with your and your friend's contact details and submit it by clicking "Refer my friend" button. Your personal invitation to your friends and family makes them much more likely to sign up for solar savings with GRID.
Location: California, Colorado, and Mid-Atlantic region
Click here to go to the referral program page
Disclaimer : Check validity of the offer with the business before providing the referral. Please note that this offer is not endorsed by ReferWise.com and contact the business directly to submit your referral and claim your referral bonus. This offer is documented here just to help ReferWise members finding new referral offers and help the business new customer. If you are the business behind this offer then contact us for officially launching this offer on ReferWise.