The Christ College earn up to $1000 in tuition dollars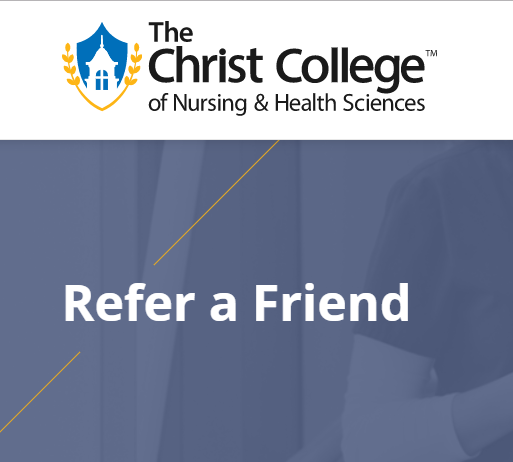 Referral Offer
Reward a friend. Reward yourself!
Give your friends the gift of education and earn up to $1000 in tuition dollars.
The Christ College of Nursing & Health Sciences referral program is our way of honoring those students who share their experiences and knowledge of our school with others.
How it Works
Refer up to five friends each academic year and earn tuition dollars for both of you!
UP TO $1000 EACH YEAR FOR YOU!
Earn $200 tuition dollars for each friend you refer who is accepted and enrolls in our RN to BSN or Health Care Administration program, up to five friends each year!
$200 FOR YOUR FRIEND!
Your friend will also earn $200 credit toward their first tuition bill. Once they become a student, they can start referring others for even more savings!
Spread the word! Refer your friends, family, and co-workers! For both of you to qualify, you must be a current student and your friend must list your name as the person who referred them at the time of application. Once the applicant is accepted and enrolled into our RN to BSN or Health Care Administration program and remains a student for 30 days or more, $200 in tuition dollars will be applied to their first semester's bill and $200 credit will be applied to your account for the same semester! So, what are you waiting for?
Refer a friend and start earning tuition dollars today!
Qualifications
You must be a current, enrolled student.
The student you refer must be completely new to the college. Former students and alumni cannot be referred.
Rewards apply to RN to BSN and B.S. in Health Care Administration referrals only (excludes BSN and Accelerated BSN program)
This offer excludes any student accepted or enrolled in the TCHHN paid cohort.
The applicant must list you as the referring student at the time of application. No exceptions.
Click here to go to offer page
Disclaimer : Check validity of the offer with the business before providing the referral. Please note that this offer is not endorsed by ReferWise.com and contact the business directly to submit your referral and claim your referral bonus. This offer is documented here just to help ReferWise members finding new referral offers and help the business new customer. If you are the business behind this offer then contact us for officially launching this offer on ReferWise.