Refer a friend to DCU. You get $10, They get $20 cash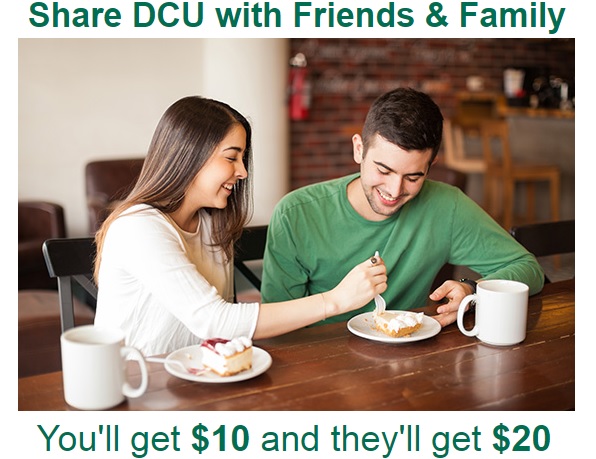 About DCU Referral Program
When you refer your friends to DCU, and they open a new membership account, you both can earn cash. You would get $10 and they would get $20.
How to refer
To refer your friends to DCU, you need to log in to Account Manager in Online Banking . Then click "Share DCU" on the left and select "Refer a Friend" option. Once you complete the online referral, they will send an email with a referral code to your friend inviting them to join DCU. This code is valid for 90 days and can be input on their new membership application. Once your friend opens their new membership and qualifying product, you will get $10, and they will get $20!*
About DCU
DCU, is a not-for-profit financial cooperative owned by and operated for their members. DCU has been chosen as the credit union for more than 700 companies and organizations since years. DCU serves more than 700,000 members and their families in all 50 states.
DCU provides a wide variety of services to consumers and businesses like Consumer banking and lending services, Business banking and lending services, Credit crads, DCU Insurance and DCU Realty.
Members can access their accounts at DCU through the Internet, ATMs, telephone, community branches in Massachusetts and New Hampshire, as well as thousands of CO-OP Shared Branch locations nationwide.
Location:
Headquarters and community branches are based in Marlborough, Massachusetts and New Hampshire.
Click here to go to the referral program page
Disclaimer : Check validity of the offer with the business before providing the referral. Please note that this offer is not endorsed by ReferWise.com and contact the business directly to submit your referral and claim your referral bonus. This offer is documented here just to help ReferWise members finding new referral offers and help the business new customer. If you are the business behind this offer then contact us for officially launching this offer on ReferWise.